Business is booming for cybercriminals, with damages from cybercrime expected to hit $6 trillion in 2021. The pandemic, of course, is a huge reason why.
Capitalizing on the massive disruption caused by the COVID-19 pandemic, cybercriminals have carried out hacks, executed data breaches, and perpetuated fraud by targeting companies' remote users.
As is explained by Shimon Oren, VP of research and deep learning at security company Deep Instinct, "You have a much bigger attack surface; not necessarily because you have more employees, but because they're all in different locations, operating from different networks, not working with the organization's perimeter network on multiple types of devices. The complexity of the attack surface grows dramatically."
Seizing this opportunity, and with a wide variety of strategies at their disposal, cybercriminals have infiltrated companies at a dizzying, and alarmingly effective, rate in order to get access to their data.
Unfortunately, these attacks won't be going away anytime soon. There are, however, precautions that users can take to help protect themselves, and their employers, from falling victim. Below, we review 8 tips that'll help offer protection against a range of cybercrimes.
How to Protect Yourself Against Cybercrime
Use Strong Passwords
Passwords should be unique for each login and should be changed regularly. In addition, the longer and more complex your password, the better. That means using a combination of upper and lowercase letters, numbers, and symbols. The following chart details how long it would take a cybercriminal to hack your password: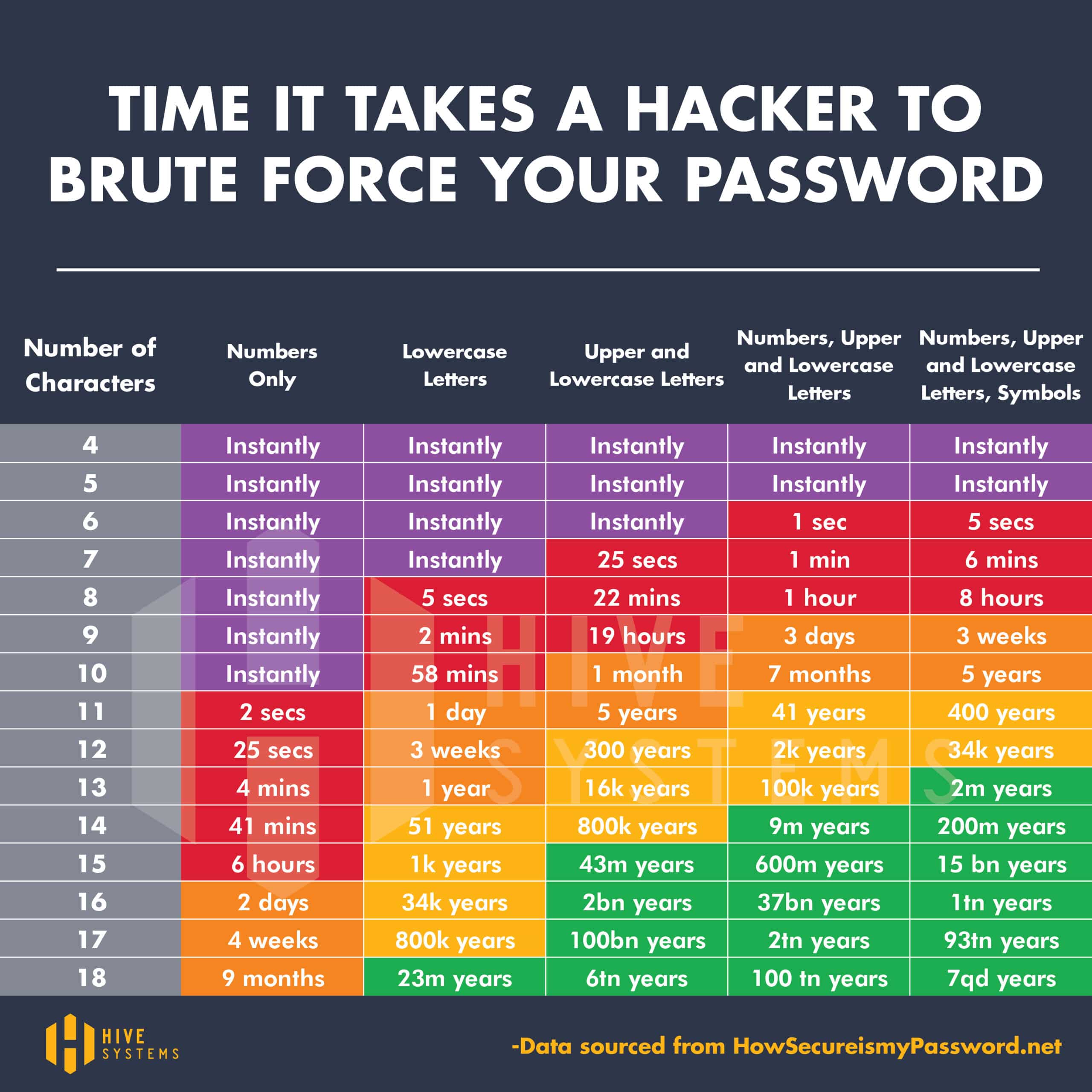 Arm Your Computer with Antivirus Software
Antivirus/anti-malware software can be used to help block harmful software such as spyware and viruses from infecting your computer. Some of the more popular antivirus software includes Norton Antivirus, Kaspersky Antivirus, Bitdefender Antivirus, and Webroot Antivirus.
Keep Your Software Updated
Cybercriminals frequently use known exploits in your software to gain access to your system. By keeping your operating system and software up to date with patches, you can ward off any potential attacks.
Password-Protect Your Wireless Router
When working from home, most are connecting to the internet via their home's wireless router. When these routers don't have a password, anyone within range can use and access your internet. That leaves those living in high density areas (e.g., apartment complexes) quite vulnerable. Password protecting them, however, solves this issue. What's more, enabling the encryption feature on wireless routers will scramble any data sent online, further protecting your sensitive data.
Look for Encryption
Before making any financial transaction online, make sure the site you're on is encrypted. You can do so by looking for two things: the security lock symbol before the URL and the 'HTTPS' protocol. Both of these symbols will ensure you're on a trusted, encrypted site and will keep your name, phone number, address, credit card number and other sensitive information from being seen by anyone other than the website owner.
Learn How to Identify Phishing Scams
Phishing is a type of online scam that targets consumers by sending them an email that appears to be from a well-known source (i.e., a bank, mortgage company, or service provider), and then asks the consumer to provide their personal identifying information. The hacker will then use that information to invade a consumer's existing account, or open new ones. To avoid them, never open emails or attachments from unknown senders and never click on unsecure links found in strange emails.
Limit Computer Usage
Your computer, especially your work computer, shouldn't be used by anyone but yourself. No matter how many precautions you take, someone clicking on a corrupted link while using your computer can leave you exposed.
Know What to Do
If you believe you've erred and have clicked on a malicious link, know who within your organization you should contact first. The sooner IT departments know of a potential threat, the better prepared they are to handle it. On a personal level, if you believe you may be the victim of a cybercrime, or identity theft, you should contact your local police.
By following these tips, you can be ensured you're taking all of the proper precautions to protect yourself, and your employer, from falling victim to a cybercrime.