This post was written for PSCI by a guest writer, Anthony Stevens. He is the content specialist for ExcelTemplates, a resource for free Excel templates.
Offices and organizations across the globe utilize Excel to accomplish various tasks and streamline their processes.
For years, Excel has been a ubiquitous tool in the workplace because of its versatility and ease of use. The program allows you to perform a plethora of essential tasks to keep your daily operations running smoothly.
Whether you need to manage a budget, keep track of inventories, or create a report, there's bound to be an Excel template that can make these tasks less time consuming and more convenient.
Excel is a productivity powerhouse, but only if you know when and how to use it to your advantage.
If you're looking for Excel spreadsheets to help boost your productivity at work, you're in luck.
We scoured the Internet for some of the most useful Excel-based work and project management templates, so you don't have to.
Excel Planning and Scheduling Templates
Planning your activities beforehand is the key to staying productive. When you know where you need to be and what you have to do at specific times, you'll be able to maximize your day and maybe even find time for last-minute appointments.
Do you usually have extremely busy days? This Daily Planner from Vertex42 lets you plan your days in extreme detail. The template breaks down your day by the hour and in 15-minute increments to ensure that your schedules don't overlap. If you want to plan your weeks ahead, you can download the Weekly Planner, also from Vertex42.

Excel Timeline Templates
Creating a timeline for the tasks and projects you're about to undertake will give you a better perspective of how they're likely to progress and also help you prevent potential delays.
The Gantt Chart is one of the most-widely used tools for designing timelines and schedules. Instead of creating one from scratch, though, you can simply download this modern Gantt Chart from Smartsheet and share them with your work mates to make task designation and tracking easier.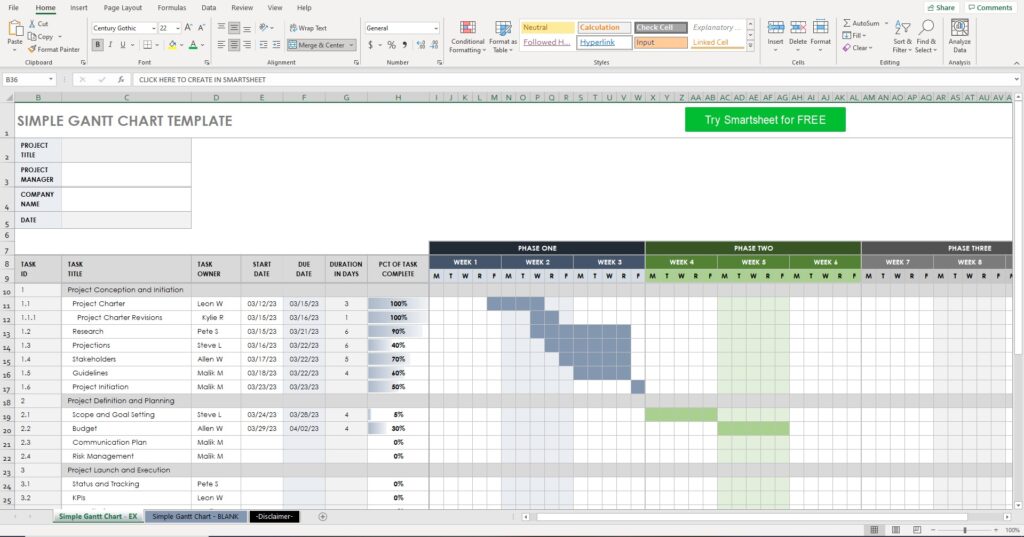 Another Excel-based tool from Smartsheet that's great for creating timelines is the Project Timeline template. If you're looking for a spreadsheet that will allow you to plan, track, and manage your projects in a single platform, then this one is worth a try.

Excel Task Delegation and To-Do List Templates
According to a study, employees are truly productive for three hours a day. If you want to boost your productivity at work, you need to manage your tasks better and make sure that the most important ones get taken care of first.
The Daily To-Do List template from Spreadsheet123 is an easy-to-use yet very effective tool for organizing tasks. Use it with the Prioritized To-Do List template so you're always updated of the high-priority, mid-priority, and low-priority tasks you have for the day, week, or month.

Excel Budgeting Templates
Managing the budget of a company or organization is a tough job, regardless of how big or small the operation is. Thankfully, there are plenty of Excel templates designed to give you a hand in this area.
The balance sheet is one of the most fundamental tools for keeping finances in check, but you have to admit that completing them the traditional way can be such a pain. Luckily, Microsoft came up with a Balance Sheet template to make the task more convenient.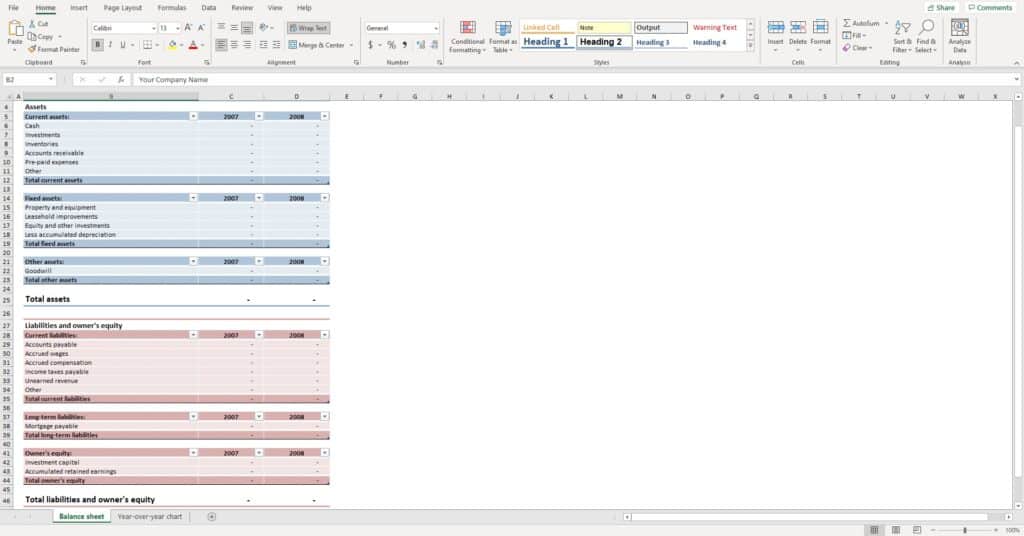 For project managers out there, Vertex42 also has a Monthly Project Budgeting template to help you define your budget and track your costs with ease.
Excel Templates for Tracking Business Expenses
It's important to keep track of business and work-related expenses. This way, you don't waste time looking for receipts and invoices when you need them later.
Ready-to-use templates like the Expense Report and the Expense Tracker, both from Vertex42, can help you stay on top of your finances. You can use the Expense Report template to keep tabs of all your work/business expenses like transportation, meals, and lodging accommodations, so it's easier for you to file for reimbursement later.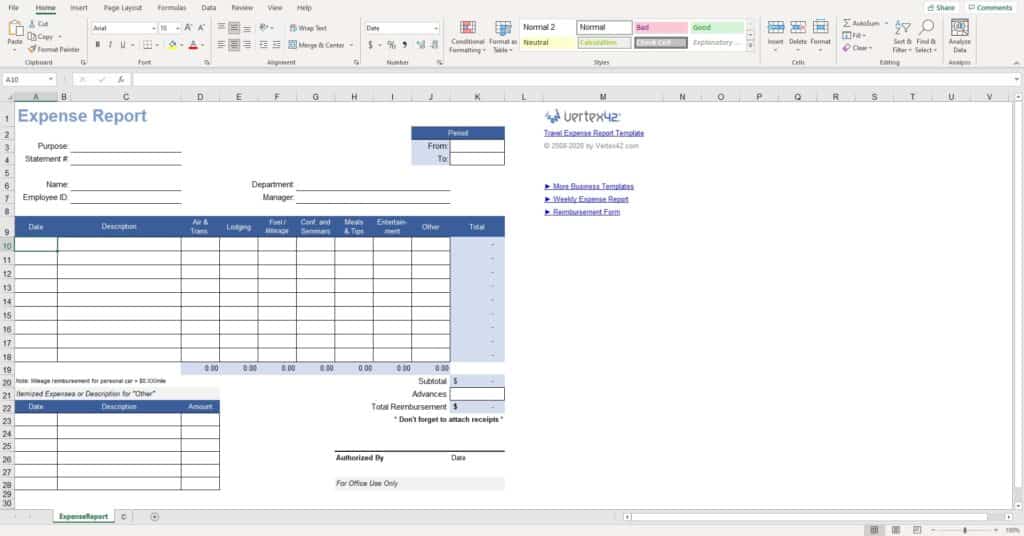 The Expense Tracker, on the other hand, makes it much more convenient to track how much of the budget was already spent and how much is remaining. This particular template can be especially useful for when you need to provide a quick run-down of expenses to partners, advisors, investors, and higher-ups.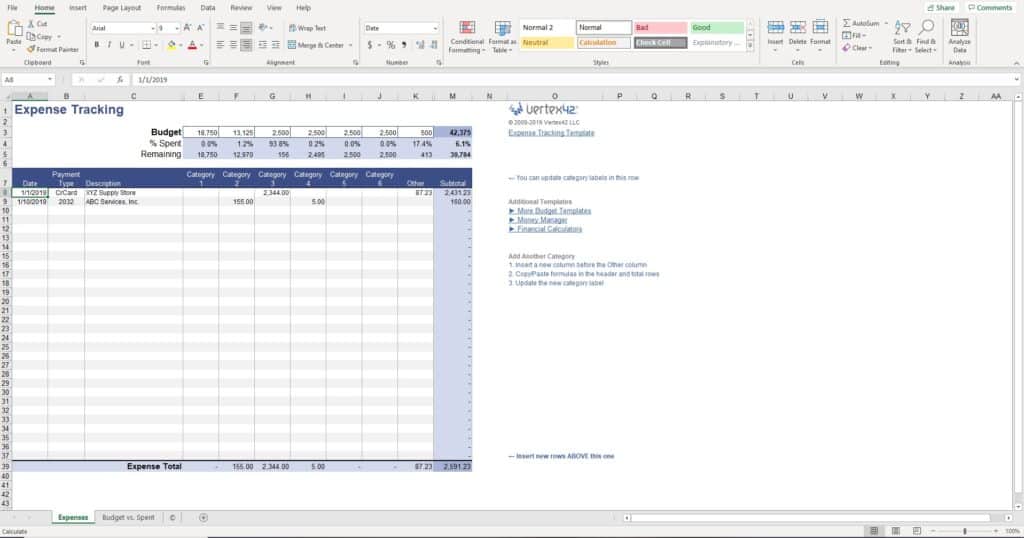 Without doubt, Excel is one of the most indispensable programs in the modern workplace. The templates we've mentioned above are just a few of the countless online spreadsheets that can increase your efficiency and productivity at work, while making your work life a whole lot easier.
Editor's Note: To further boost your productivity, try listening to some music while you work.